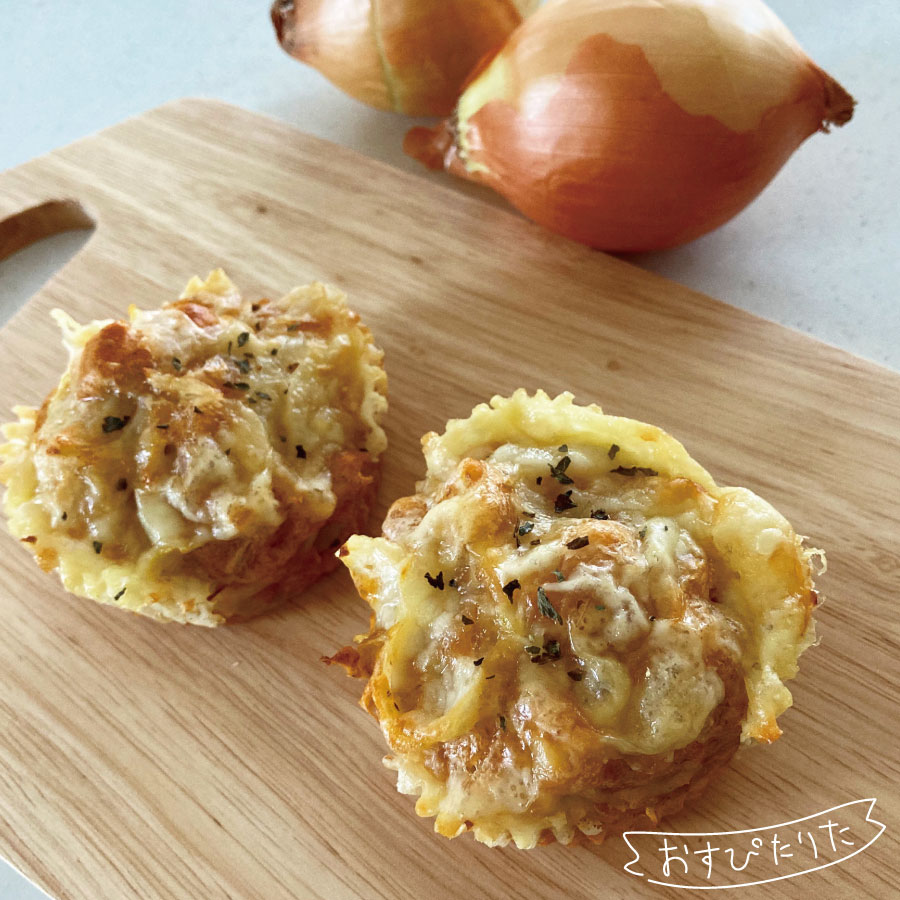 This is non sweet muffins recipe. It is used for seasoning with commercially available tomato sauce and add a lot of Cheese&Onions. Sliced Onions in the muffin had very nice texture and goes well with the Cheese.
Both adults and children love Tomato sauce. Beside pasta , It can also be used to baking. If you have the sauce left over in your home, you should definitely try making these muffins. I bet you'll like this!
The melted cheese on top is amazing. So my recommendation is fresh baked or reheated muffin.
INGREDIENTS
| | |
| --- | --- |
| Onion | 1/2 |
| Pizza cheese | A sprinkling of cheese. |
| Dried basil(If any.) | A splash of basil. |
| 【A】 | |
| Bread flour | 60g |
| Rye flour | 40g |
| Baking powder | 4g |
| 【B】 | |
| egg | 1 |
| sugar | 10g |
| Tomato sauce | 60g |
| Olive oil | 10g |
| Milk | 10g |
INSTRUCTIONS
PREPARE OVEN AND MUFFIN CUPS
▼Preheat oven to 190c/374f; line six or five muffin cups with paper liners.
▼1⃣Cut the onion into thinly slices. 2⃣Put the sliced onion in the water for 10 minutes. 3⃣Drain water with some paper towels. 4⃣Heat this up in the microwave at 600 watts for 1 1/2 minutes.
---
1.【A】In a large bowl, Sift the flour, Bread flour, Rye flour and baking powder together. Set aside.
2.【B】In a large bowl, add the all B ingredient . Use the whisk to stir until everything is well combined.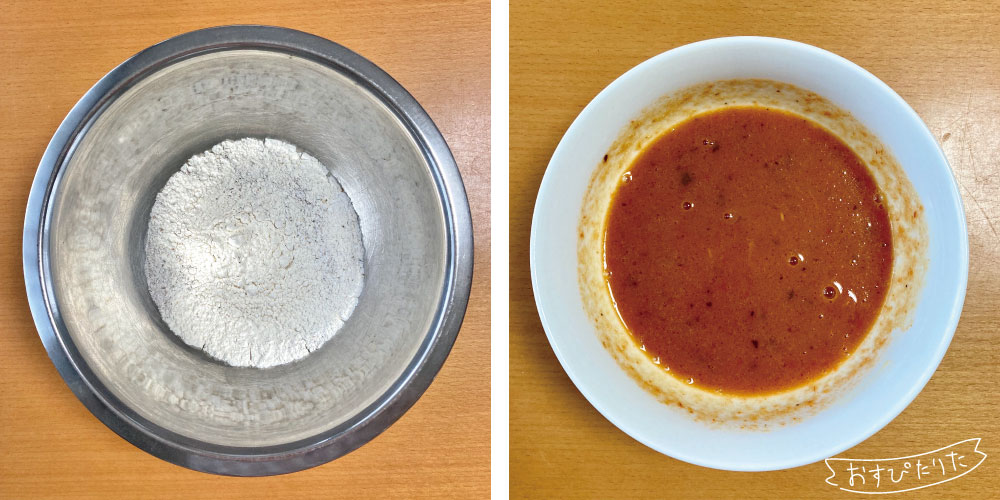 3.Dump the 【A】flour mixture into the 【B】oil mixture. Use a silicone spatula to fold the two mixtures together just until all the flour is moistened.Do not over mix.
Tips
Mix quickly and lightly with a silicone spatula until moistened, but do not beat.  When you overmix the batter, it crushes the air bubbles and ruins the fluffy texture.
4. Fold in the blueberries. (Do not over mix.)
5.Divide between prepared muffin cups.
6.To make the topping, Sprinkle over cheese and basil. (The basil option can be omitted.)
7.Bake at 190c/374f for about 25-28 minutes, and insert a skewer until it comes out clean.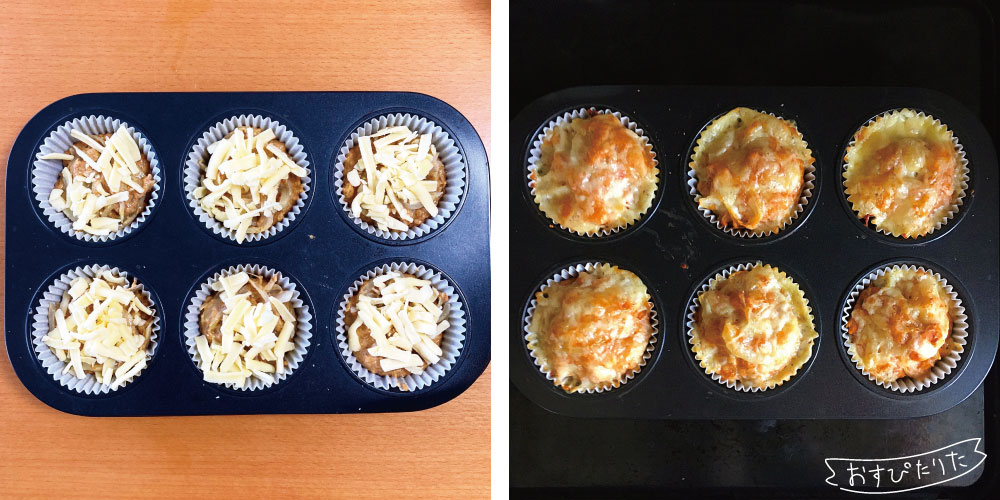 NOTES
●玉ねぎさえ準備しておけば後は簡単です。私はしなっとした玉ねぎが好きなので、レンジで一度火を通しますが、お好みでそのままで混ぜ込んでもらってもOKです。ですが水には必ずさらした方がいいです。
●チーズは多すぎるとあとあと型の掃除がめんどくさそうなのでこのくらいがいいかと、、。
Products I used.
●Tomato sauce , CLASSICO TOMATO&BASIL.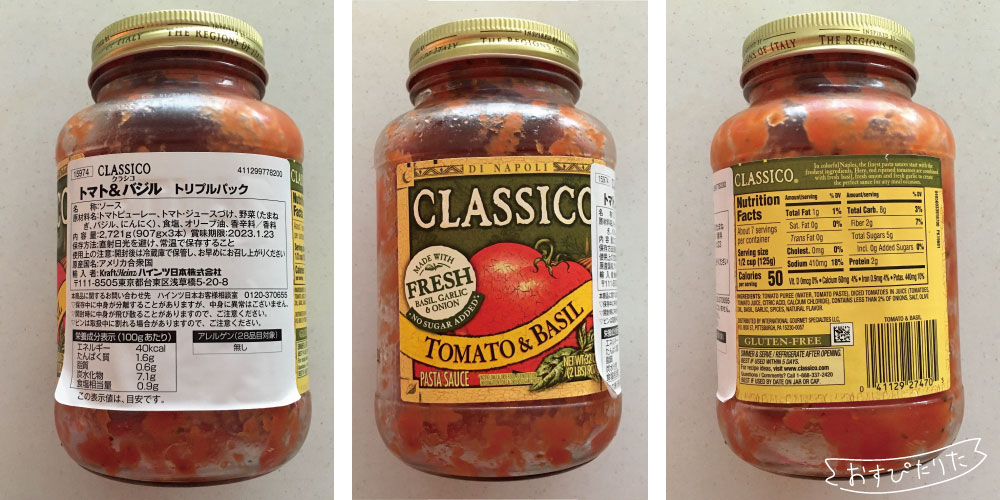 リンク
●Rye flour
リンク
●Bread flour
●Baking powder
リンク