Have you ever eaten gluten-free muffins that made with rice flour before?
These muffins are made with rice flour and oats. This rice flour has very fine-textured, So you don't have to sift the flour well so that there are no lumps.
This muffin recipe is simple & easy to make. No butter, no sugar ! These easy gluten-free muffins are made start to finish in less than one hour and are so fluffy and moist. I'm sure you'll like it.
If you have no Chocolate, then you can using fruit jam filling. But even plain tastes amazing!
INGREDIENTS (5 muffins)
| | |
| --- | --- |
| Oatmeal | 30g |
| Egg– Room temperature eggs. | 1 |
| Oligo syrup (or honey) | 45g |
| Salt | a pinch |
| Taihaku sesame oil (Vegetable oil, canola oil, or melted coconut oil) | 20g |
| Rice flour(共立食品 ホームメイド 米の粉を使用) | 60g |
| Baking powder | 5g |
| Milk (or soy milk) | 10g |
| Chocolate | 10g×5cups |
INSTRUCTIONS
PREPARE OVEN AND MUFFIN CUPS
▼Preheat oven to 180c/360f; line five muffin cups with paper liners.
---
1.In a large bowl, whisk the Rice flour and baking powder together. Set aside.
2.Combine oatmeal and egg in a bowl, and leave it for 10 to 15 minutes.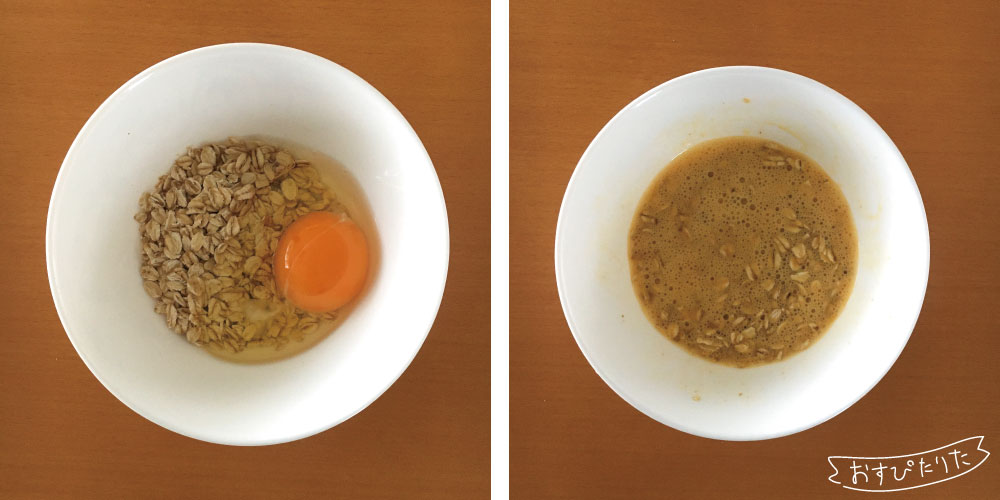 3.Add the oligo syrup and salt. Use the whisk to stir until everything is well combined.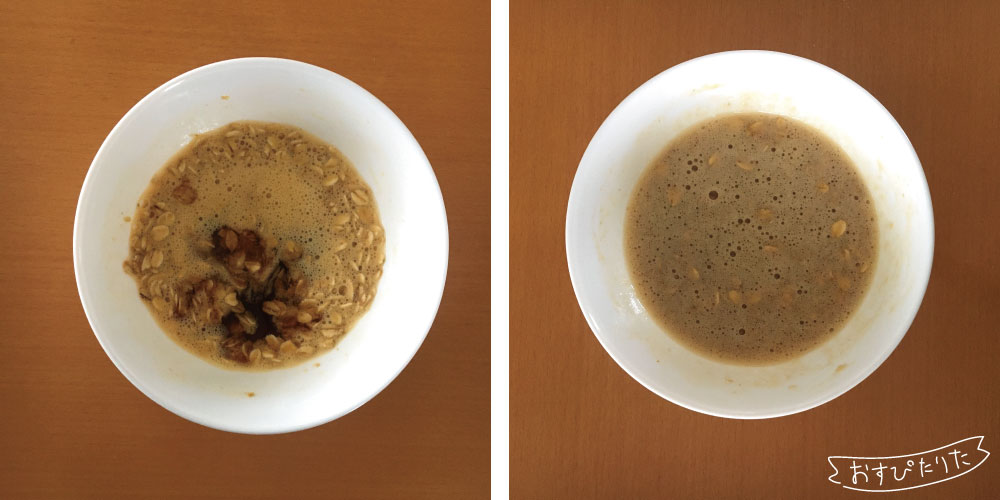 4.Add the Taihaku sesame oil and stir until well combined.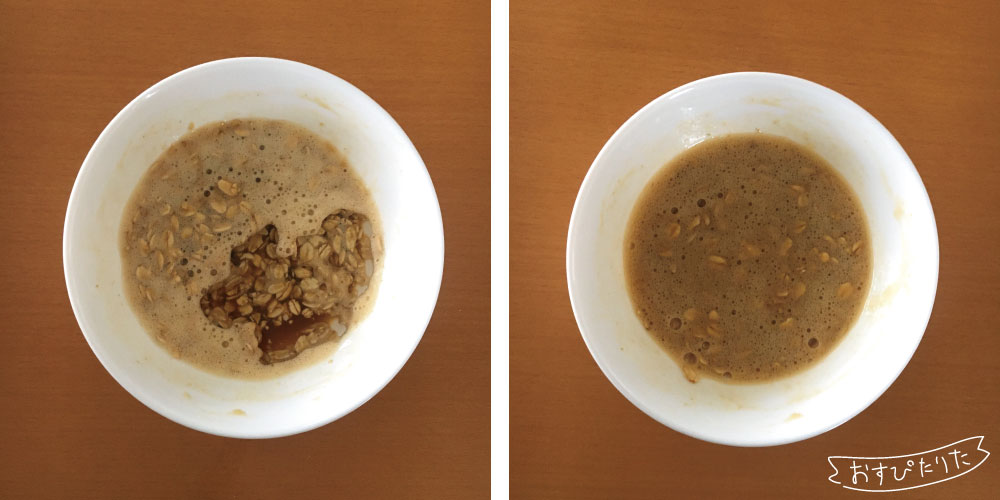 5.Pour in The wet ingredients into the dry ingredients and stir until well combined. (Do not over mix.)
6.Add the milk and stir until well combined. (Do not over mix.)
Tips for perfect muffins
Mix quickly and lightly with a silicone spatula until moistened, but do not beat.  When you overmix the batter, it crushes the air bubbles and ruins the fluffy texture.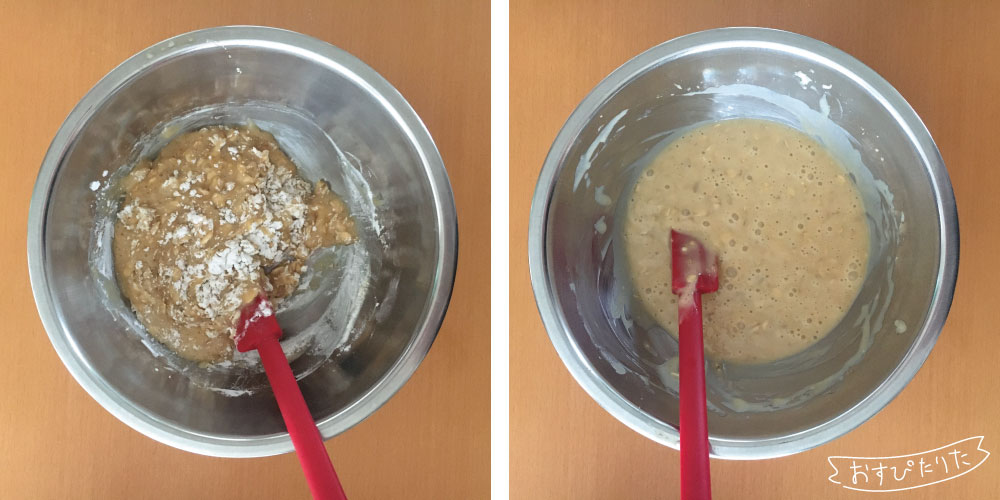 7.Divide between prepared muffin cups.
8.Sprinkle over Chocolate filling and push it lightly.
9.Bake at 180c/360f for about 14-18 minutes until golden and insert a skewer until it comes out clean.
You should eat this muffin as soon as they are taken out of the oven so that you can enjoy the chocolate oozing from the center. But It tastes good even after it cools off.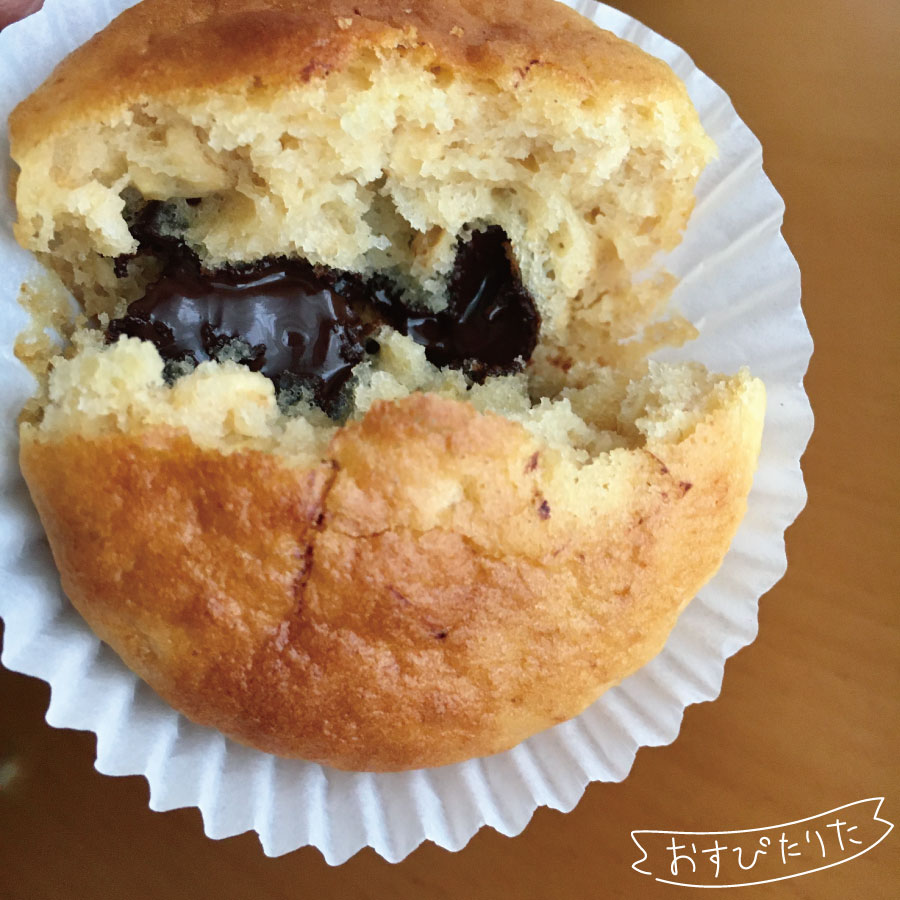 Note
●Baked in the oven as soon as the batter is completed. These are the procedures to prevent the production of wheat gluten, which may prevent a crisp texture.
●If you have no Chocolate, then sprinkle over fruit jam filling and push it lightly. But even plain tastes amazing.
●Rice flour vary depending on the product so adjust the amount of milk.
Products I used.
●Rice flour
●Oligo syrup
●Taihaku sesame oil
●Chocolate High Cacao 86%