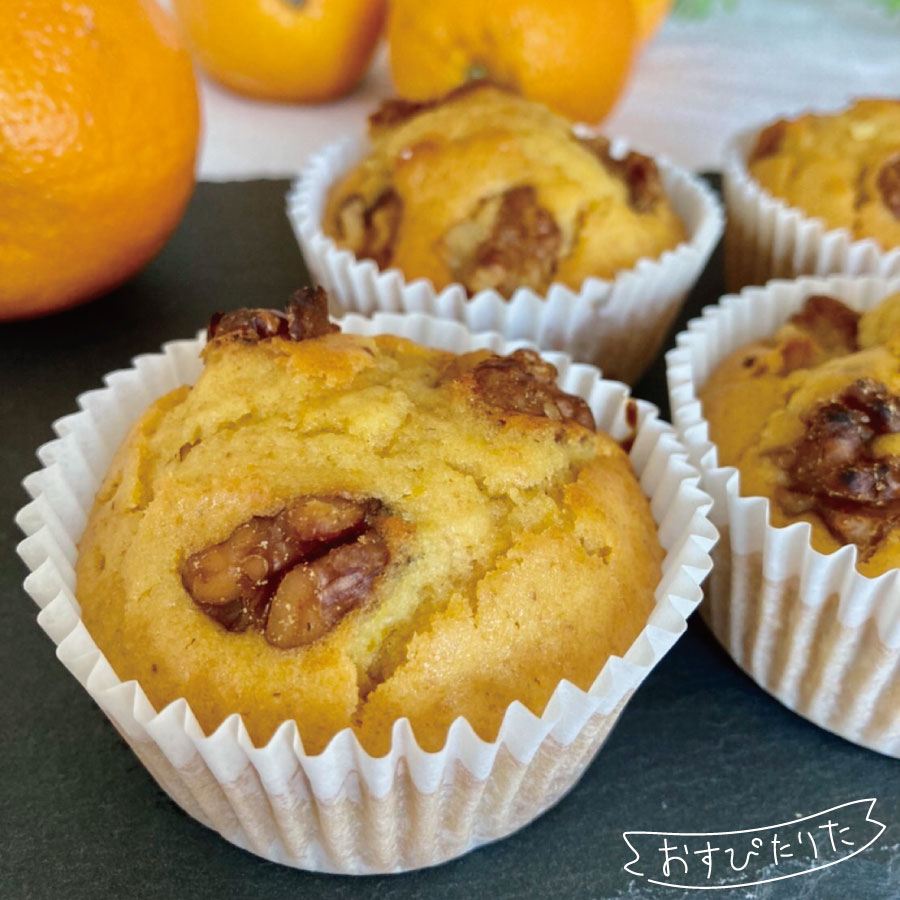 Have you ever tried an orange muffin? I love the juicy texture! This recipe using the fresh 1 whole orange, so the muffins have a fresh taste!  It's so easy to get fresh orange zest to add a ton of flavor to these muffins.
These muffins aren't overly sweet. Oligo syrup is key to getting a gentle sweetness and light texture, so this muffin is chewy and tasty! It matches exquisitely.
Bifidobacteria have been already well known as probiotics.Increasing human bifidobacterium and adjusting gastrointestinal function.Oligosaccharide is included in the Oligo syrup.Oligosaccharide has the effect of growing bifidobacteria. And That has low calories than sugar. I recommend you to use this Oligo syrup!
INGREDIENTS (5 muffins)
| | |
| --- | --- |
| 1 whole orange | 1 |
| For topping:Roasted walnuts | About 20g |
| 【A】 | |
| Cake flour | 50g |
| Whole grain flour | 40g |
| Baking powder | 4g |
| 【B】 | |
| Egg– Room temperature eggs. | 1 |
| Oligo syrup (or honey) | 40g |
| Rice Bran Oil  (Vegetable oil, canola oil, or melted coconut oil) | 20g |
| Milk | 10g |
INSTRUCTIONS
PREPARE OVEN AND MUFFIN CUPS
▼Preheat oven to 180c/360f; line five muffin cups with paper liners.
---
1.Wash the orange and dry with a paper towel. Zest the orange until the peel is removed. Cut the orange in half. Press each half onto the spinning reamer and turn the orange half with your hand until the juice is extracted. And take out the seeds.
Tips for perfect muffins
Orange zest and orange juice, These figures add up to about 65g. If it is not enough, Add milk.
2.【A】In a large bowl, whisk the flour, whole grain flour and baking powder together. Set aside.
3.【B】In a large bowl, add the orange zest, orange juice, egg, oligo syrup, rice bran oil and milk. Use the whisk to stir until everything is well combined.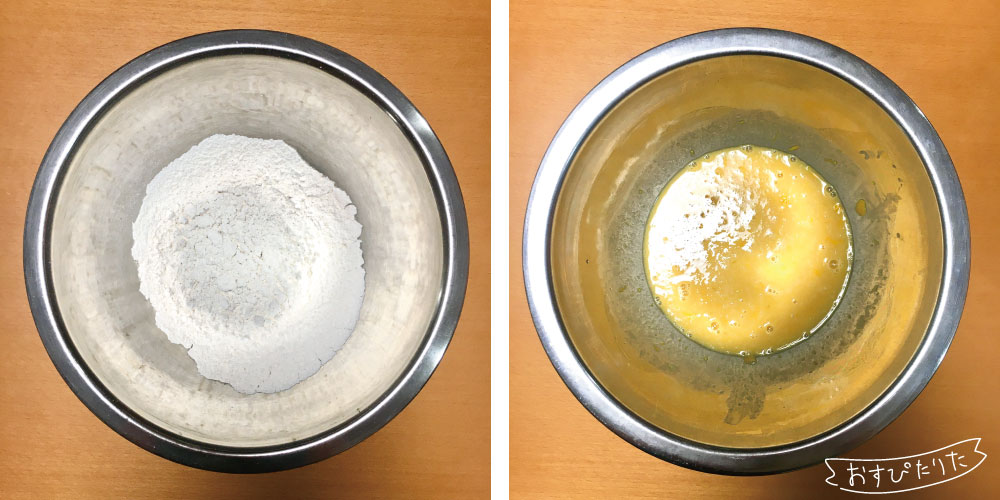 4.Dump the 【A】flour mixture into the 【B】oil mixture. Use a silicone spatula to fold the two mixtures together just until all the flour is moistened.Do not over mix.
Tips for perfect muffins
Mix quickly and lightly with a silicone spatula until moistened, but do not beat.  When you overmix the batter, it crushes the air bubbles and ruins the fluffy texture.
5.Divide between prepared muffin cups.
6.To make the topping, Sprinkle over Roasted walnuts. (This option can be omitted.)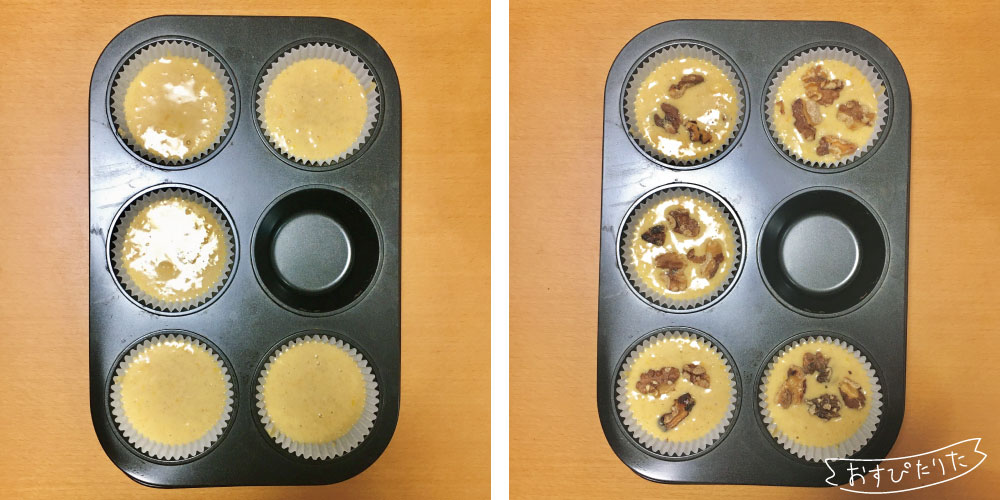 7.Bake at 180c/360f for about 23-28 minutes until golden and insert a skewer until it comes out clean.
NOTES
●Muffins freeze well in snap-lock bags, but are best eaten on the day they are made.Store in an airtight container for up to 2 days or freeze for 1 months.
●If you don't have walnuts and having one more orange, cut the orange into round slices. Sprinkle over the orange zest.
Products I used.
●Cake flour


リンク

●Whole grain flour

●Baking Powder

リンク
●Oligo Syrup
リンク
●Rice Bran Oil

リンク
Muffin cups I used.
●Microwave-safe and non-stick coating muffin cups.(Non-Silicone, Made in Japan)
リンク